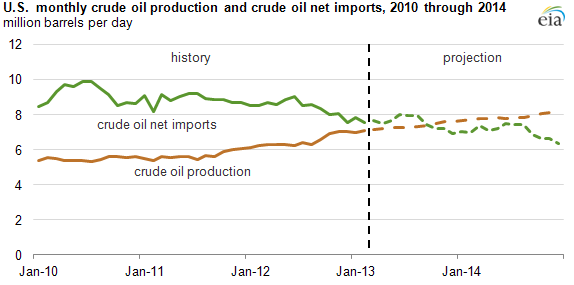 Despite whatever your views may be on the various topics of fossil fuels, fracking and renewable energy, it is obvious that the major US push towards developing energy production in all forms is bearing fruits in several ways. The US Energy Information Administration announced today that for the first time in nearly two decades the United States produced more oil than it imported from foreign sources.  There was a time when the thought of the US producing more crude oil than it imports was inconceivable, but the reduction of energy usage from demand-side programs and the uptick in the efficiency of vehicles, power production, appliances and heating systems has helped reduce demand. At the same time, hydro-fracturing techniques have opened up vast new reserves of both natural gas and oil that before were thought to be unrecoverable. Domestic oil production is at a 24 year high, but this does not mean that crude oil prices will fall very much. You have probably noticed that gas prices have fallen at the pump, but they are not expected to fall past $3.15 per gallon, according to an NPR report. US refining capabilities have their limitations and Americans are driving less often.
On the renewable side, the first major utility scale solar thermal power plants are just now coming on-line in the Southwest deserts. According to the EIA,  this will increase solar thermal production to 1257 MW and will more than double the US solar thermal electric generating capacity in 2014. A further 3.9 GW of utility-scale projects are currently under construction. This combined with the ongoing decrease in photo-voltaic cell production costs leads industry analysts to predict that "new annual installations of solar PV will double from 35.9 gigawatts (GW) new capacity in 2013 to 73.4GW in 2020" world wide. Since 2000, more than 1,460 megawatts of residential solar installations have been installed across the US, and more than 80 percent of that capacity was added in the past four years.
Does all of this mean that the US will gain energy independence in the near future?  That's not likely, but we are becoming "energy secure", meaning that we will be able to survive and prosper by consuming our own energy production and that imported from neighboring allies like Canada, Mexico and Brazil. By not relying on oil imports from the Middle East, our energy prices should become more stable and secure and less vulnerable to oil cartel manipulations. If current and future political administrations continue to support production and R&D for both domestic fuel sources and renewable energy, we will no longer be at the mercy of volatile foreign imports.
As always, to keep up to date with what's new in HVAC technology and energy, visit our website at airideal.com and follow us on Twitter @airideal and at our Facebook page!