As building owners, maintaining the health of your rooftop unit should be top priority. Not only is it the lifeblood of your building's HVAC system, but it's also a crucial factor in maintaining your building inhabitants' health. 
With the fall in full swing, you'll want to take stock of your rooftop unit's performance and make sure it's in tip-top shape. From general inspection to installing smart controls, here's how you can maintain your rooftop unit's health.
Conduct Inspection on Your Rooftop Unit
One of the first steps you should take when it comes to rooftop unit maintenance is inspection. Cleaning and inspecting your rooftop unit is not only important to keep it running at peak performance, but it also ensures healthy indoor air quality for all building occupants.
As your rooftop unit is composed of many parts, you'll need to examine the crucial components, which include the air filters, fans, condenser coils, and the heat exchanger. With air filters, you'll want to make sure that there's no visible damage and make sure it's not clogged. Since air filters act as a gatekeeper to your HVAC system, they do run the risk of getting clogged throughout its use from airborne contaminants — such as dust, dirt, and other bacteria. The same concept applies to fans.
Condenser coils, on the other hand, should also be maintained with extra care. Condenser coils reject hot air and are located inside the rooftop unit. They can collect debris over time, which can negatively impact their efficiency. To optimize its use, you should hire a professional to clean them off at least once per year. This will ensure that your system operates at its optimal level, saving you money on energy bills as well as repairs down the road.
Heat exchangers, which, as their name suggests, move heat from one area to another. Examine them for rusting and cracks.
Clean Outside Debris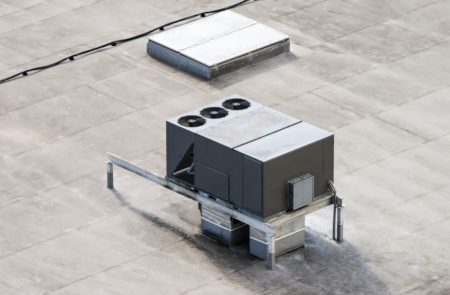 With the fall comes changing weather conditions and other challenges for your rooftop unit. One important challenge to factor in is how falling leaves and branches can affect your rooftop unit's performance.
One of the most important things you can do when maintaining your rooftop AC unit is removing leaves or branches that have accumulated inside and outside of it. If they aren't removed, they can cause damage to both your unit and its components over time. Also check for any insects or other animals that may have made their way into your AC unit; if this happens, contact an exterminator right away so they can remove them safely, as their presence can be harmful to the indoor air quality.
Install Smart Controls
Another great and modern way to maintain your rooftop unit is through the use of smart controls — mainly programmable thermostats.
Programmable thermostats are an ideal choice, not only for maintaining your rooftop unit, but also for your energy bills. Having one installed in your office will prevent workers from having to get up and change the temperature of the room all the time. Furthermore, it allows for your HVAC system to operate on a schedule, thus making your energy bills at the end of the month much more predictable.
On top of that, it eliminates a lot of excess strain put on your rooftop unit. No longer does your HVAC system need to run excessively at inopportune and inefficient times, because it'll all be programmed.
Rooftop Unit Maintenance with Air Ideal
Air Ideal is committed to providing excellent HVAC service and maintenance throughout Long Island and NYC. Whether your commercial or residential property needs assistance, we're here to help. To learn more about Air Ideal's services, please visit our website and get in touch with us today!